Custom ADA Signs
Directional, Way-finding Signs and Room Identification Signs. ADA signs help those that are visually impaired navigate in and around buildings.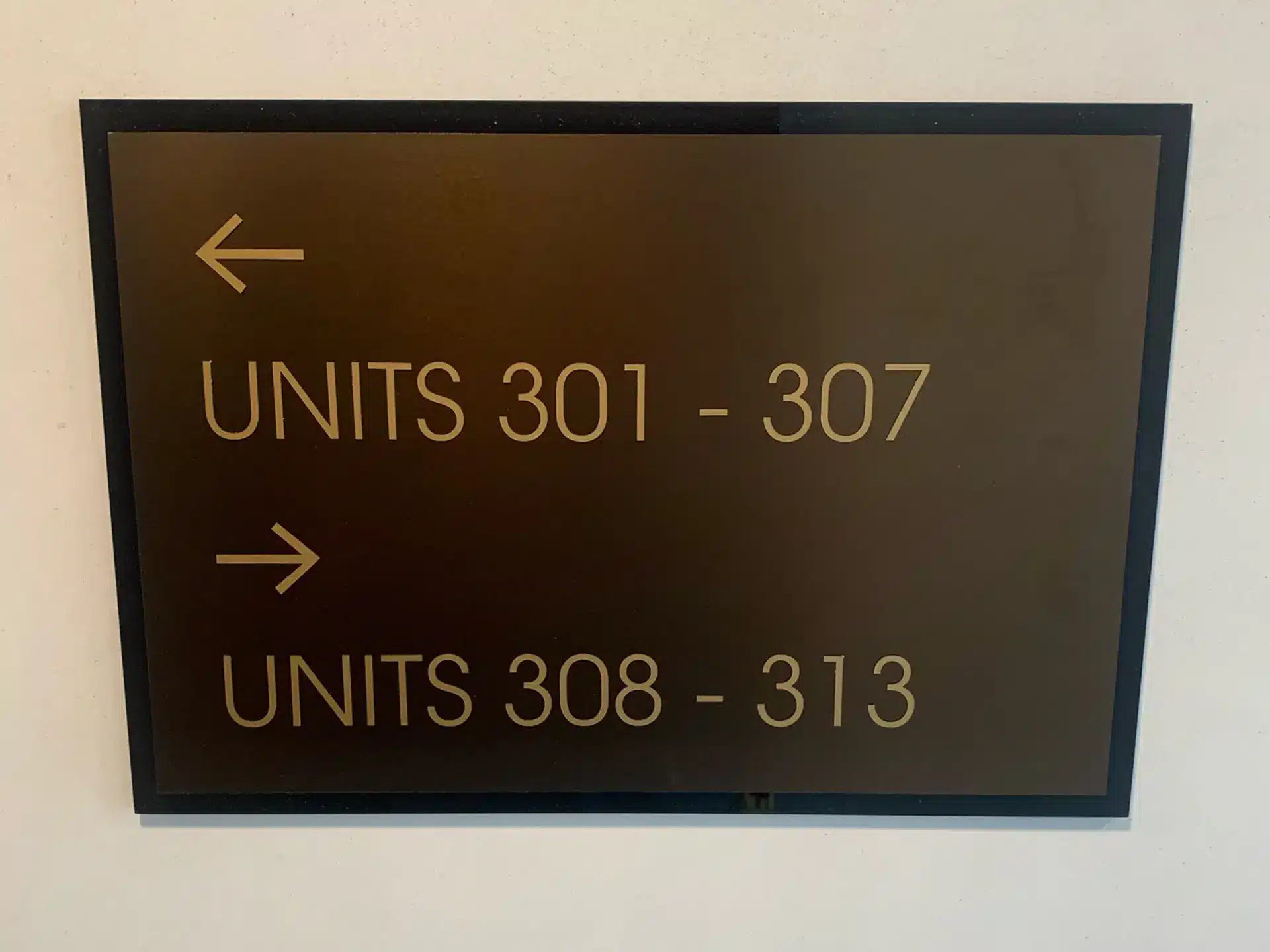 Resource4Signs designed and installed several apartment complex Wayfinding signs for The Estelle Apartments located in Los Angeles.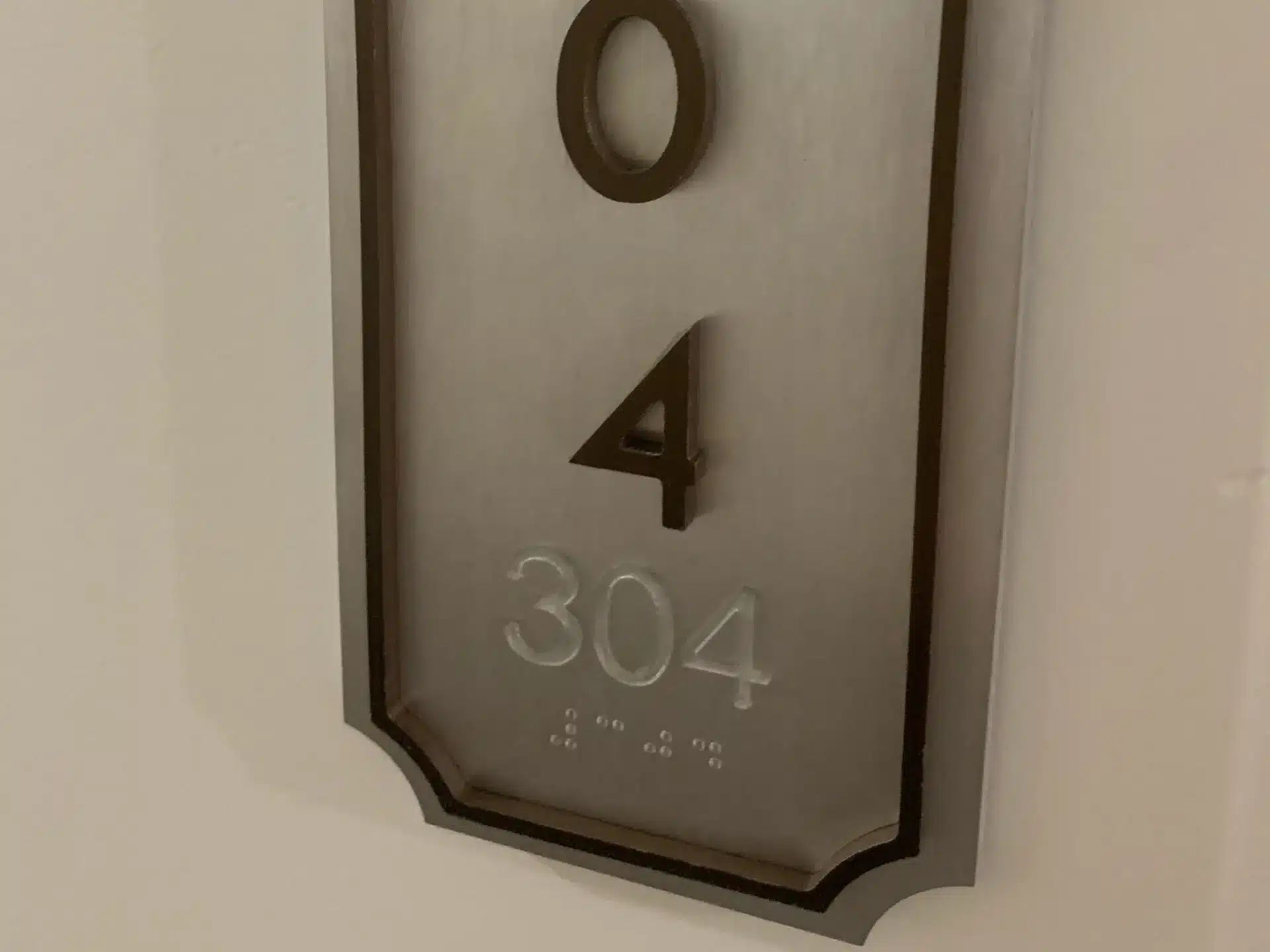 We designed and installed apartment complex signs for Three One Four Apartments. Located in the heart of Downtown Los Angeles at the Historic Core and Jewelry District. Three One Four offers 50 newly renovated luxury units.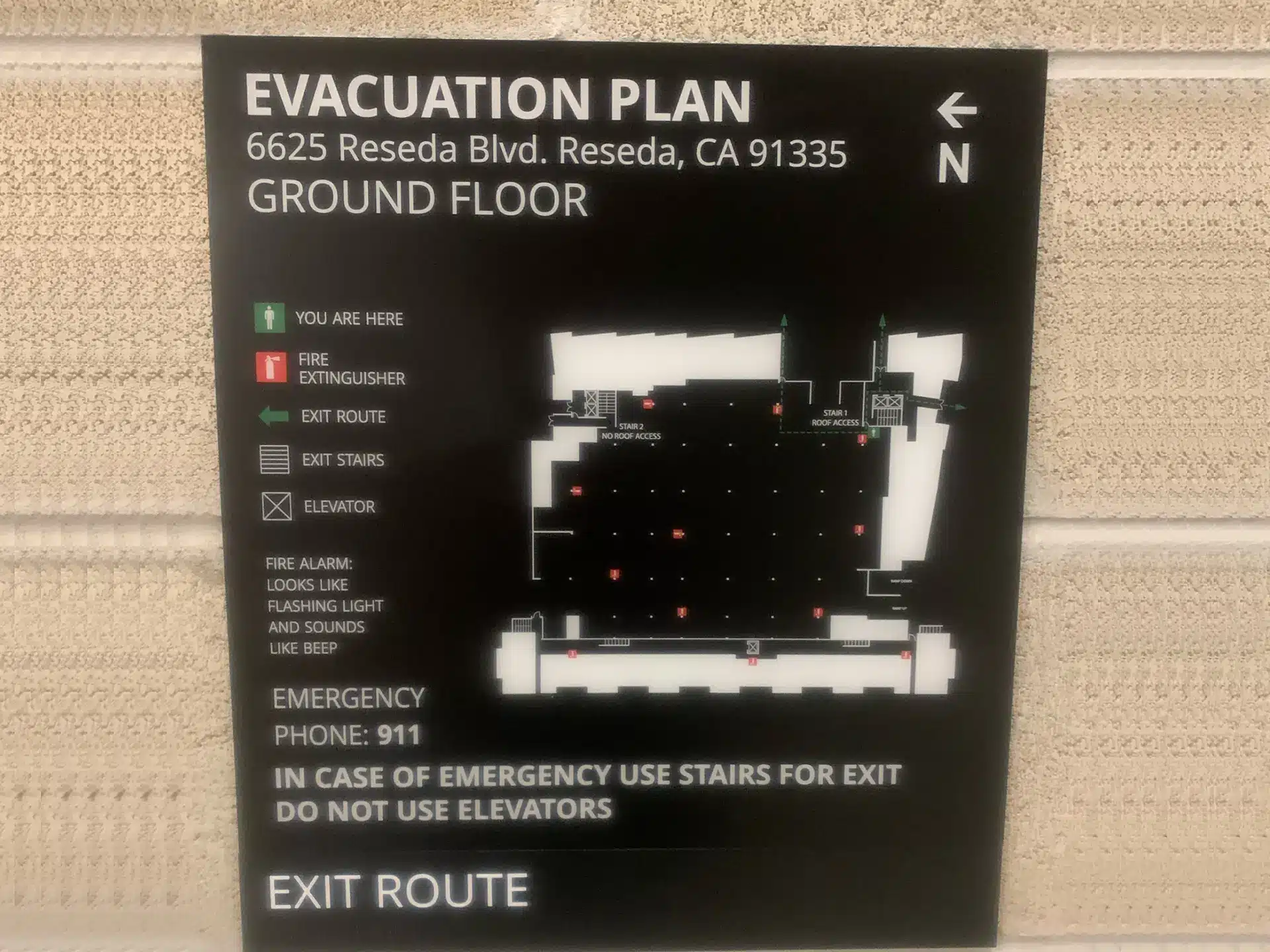 We designed and installed ADA compliant exit stair ppartment complex signs for Watermark Luxury Apartments located in Reseda California.
Different types of ADA signage can be used in public buildings. Which type of sign is used in any given building will naturally be determined by the kind of building and the rooms it contains. Learn more about ADA Signs and checkout some of out most popular styles.
What Are ADA Signs?
ADA signs are intended to help those who are blind or visually impaired. They are used to identify rooms so that the individual can know what any given space is. As you might imagine, these signs have a fair number of requirements that must be met to comply with ADA standards.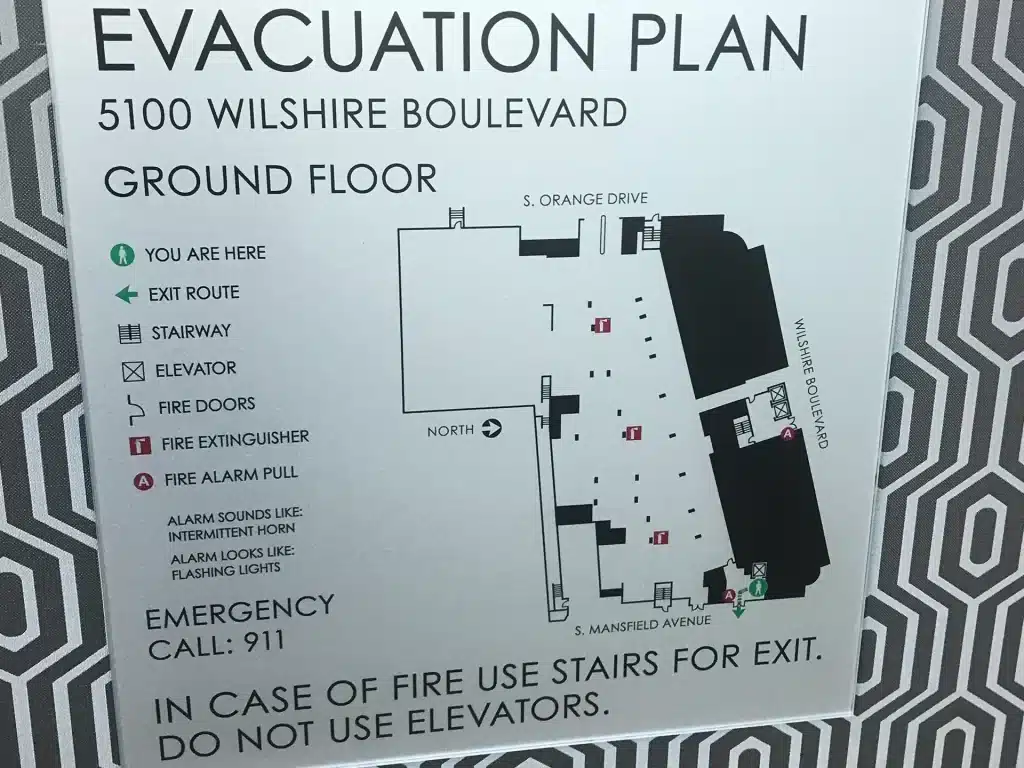 Custom ADA Braille Signs
The Americans with Disabilities Act (ADA) requires certain signs to meet ADA compliance by incorporating these different sign elements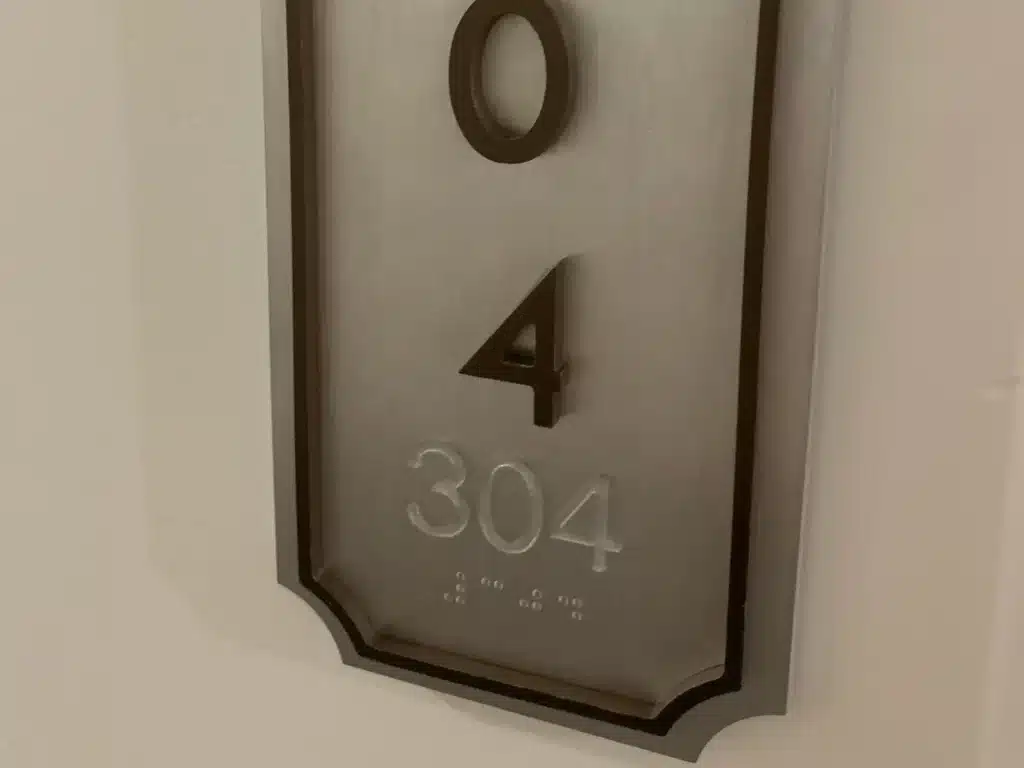 We have a design team that can provide you with custom options for your ADA signs, ones that lack the monotony of the other ADA signs you see. We can work within the constraints on the requirements for these signs to match your aesthetic, location, and brand.
It begins with our experts completing an in-depth consultation that focuses on the products that will fully meet your needs. Then our team develops a plan to meet those needs with custom design, fabrication, and installation. The final package will bring you long-lasting results!
Are you interested in learning more about custom ADA compliant signs that our professionals offer? Would you like to meet the requirements of your area? Speak with our team today, and we will get you this information and more!
Imagine yourself in a wheelchair at your favorite store or restaurant for the first time and you need to use the restroom. You navigate through racks of clothes or tables and work on getting the door open. Except when you get the door open and your wheelchair in – you realize there is no way for your chair to fit in the stalls. Awful right? This is totally preventable with a complete ADA sign package. The signs that allow the disabled to know the ins and outs in your establishment are essential for a business's success. In addition, these signs are legally required in public places, with specific regulations on:
Size
Height of Installation
Contrast
Substrate
And More
More than just for the convenience of your patrons, there are also strict codes surrounding these signs. Without them, your business risks substantial fines – amounting as high as $150,000. Our team can help!
Frequently Asked Questions
ADA Sign FAQs
The state of California has some additional ADA sign requirements that go beyond federal regulations, specifically regarding bathroom signage. In many instances, bathrooms will require two signs: those complying with federal laws and those complying with those established by California. California restrooms must be marked by a geometric sign that must be centered horizontally on the door between 58-60″ above the floor as measured from the centerline of the sign. Restrooms for men must have a 14″ thick equilateral triangle sign whose edges are 12″ long that points upwards. Restrooms for women are marked by a circular sign of the same thickness and a 12″ diameter. In both cases, the sign must contrast visually with the door. Unisex restrooms are identified by layering the two signs in the same dimensions, with the circular one on the bottom. In this case, the two symbols must contrast, with the circle also contrasting with the door.
It is tough to make a great ADA sign if you do not know what it should contain. ADA signs should be made with a non-glare finish. They must have high contrast between the background and the content, aside from any included braille. Visual characters must meet the font, size, and contrast requirements. Additionally, ADA signs whose primary purpose is identification must have tactile characters, may sometimes require pictograms, and must meet specific mourning requirements. Those meant to be directional and informational are not required to have tactile characters or pictograms, but they still have to meet the mounting requirements. These guidelines are specific enough for the sign to do its job but general enough that a business can still have custom ADA-compliant signs.
Part of complying is knowing when the signs are required. Any building that is open to the public must have ADA-compliant signs. They must be posted at each entrance and exit, doors inside stairwells, and any part of the building that pertains to safety somehow. Additionally, they must be present in their correct placement for every permanent room in the building. A permanent room or space is defined as a place with the same function for seven days or more. The exceptions to this are parking lots (aside from accessibility parking spaces), areas not meant for public use, or the exterior of a building, provided it is labeled with the name and address.
So this one is a bit of a trick question. Technically, the Department of Justice is responsible for enforcing ADA laws, both in general terms and those specific to signage. Still, the Department of Justice doesn't have the time or resources to go around to every building and make sure that it is in line with the law. The task of assessing the signs falls to local code inspectors. Do not think that means you will get off easy if the building does not have the correct signage. The Department of Justice will not have any qualms about issuing fines for not having ADA-compliant signs. The first offense alone can be as much as $50,000.