Custom Storefront Signage
Storefront signs are an important part of any business's marketing plan. Having a strong, attractive storefront sign is key to attracting customers and driving sales. Investing in a quality sign can make all the difference for your business.
Recent Storefront Sign Projects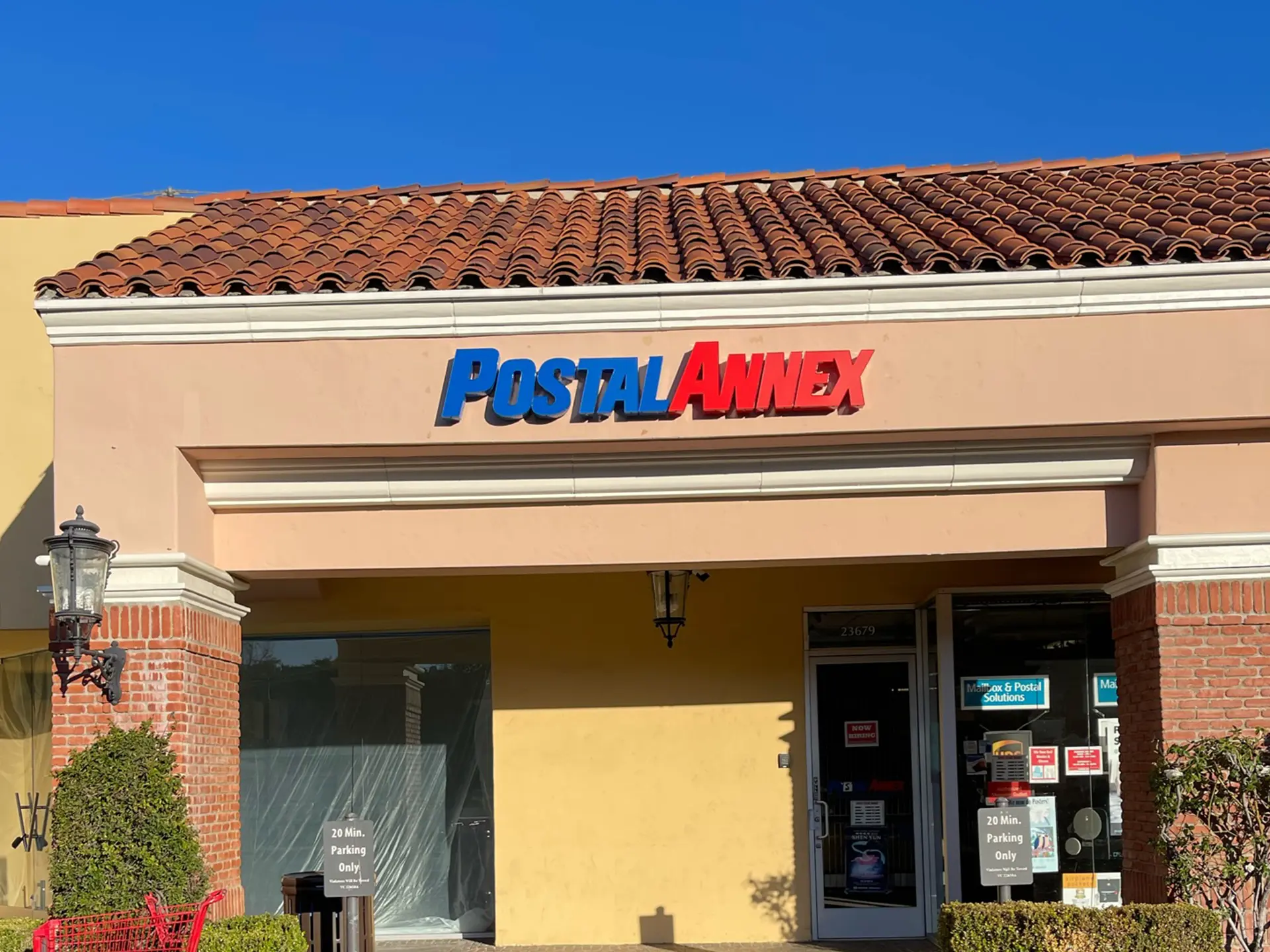 Designed and installed a illuminated building sign for storefront Postal Annex.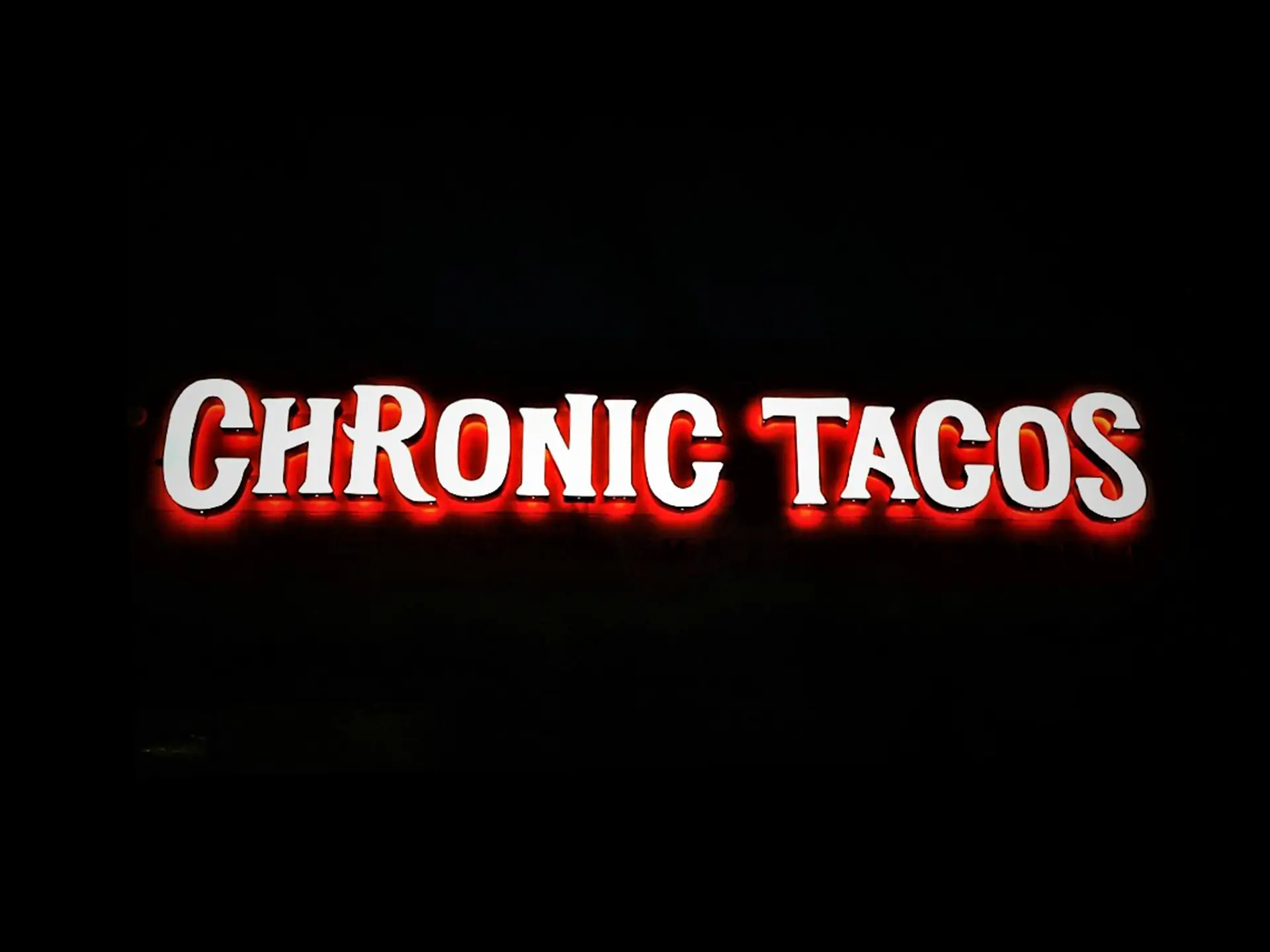 White acrylic face Compound Lit Channel Letters The difference between front-lit channel letters and compound channel letters is that compound channel letters are also reverse-lit. More specifically, the signs we make for Chronic Tacos are always compound channel letters with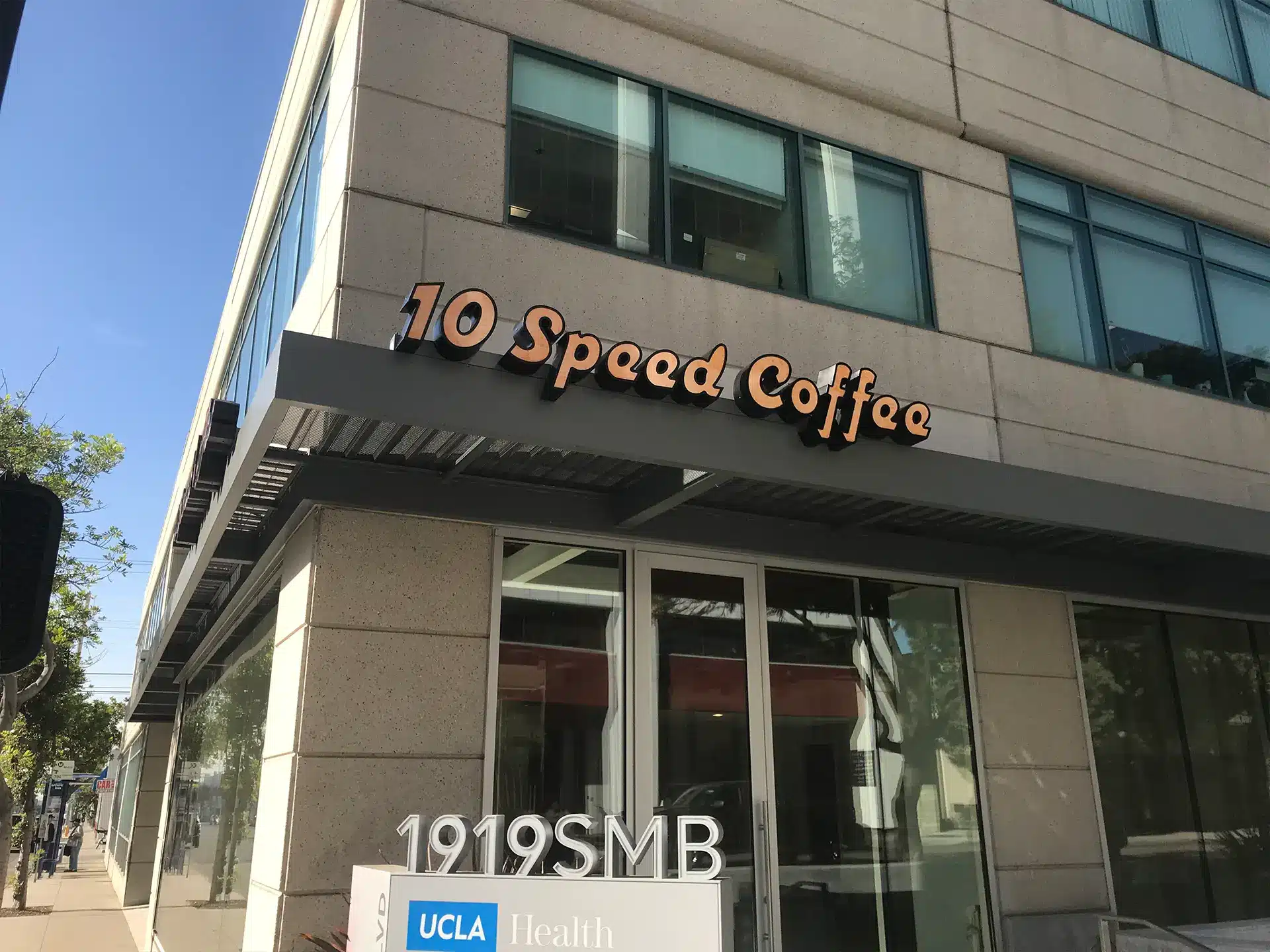 Digital Prints on Front Lit Channel Letters Each sign letter face is a digital print front lit channel letter. To create the border they wanted, we did something a little different from typical front-lit channel letters. Usually, we put trimcap
Whether you choose an illuminated, metal or acrylic sign, it's important to choose quality materials and workmanship. A good storefront sign will serve as an effective advertisement for your business, helping you stand out from the competition. It's also essential for helping customers find your business when they are looking for it. A quality sign will last a long time Learn more about Storefront Signs and checkout some of out most popular styles.
What Are Storefront Signs?
Stores can use many different types of signs, so knowing which one you're dealing with is critical. Storefront signs are used specifically on the outside or exterior of your store to identify your business. They usually include the name of your store and your logo as well. They help advertise your business and make it easier for customers to find you.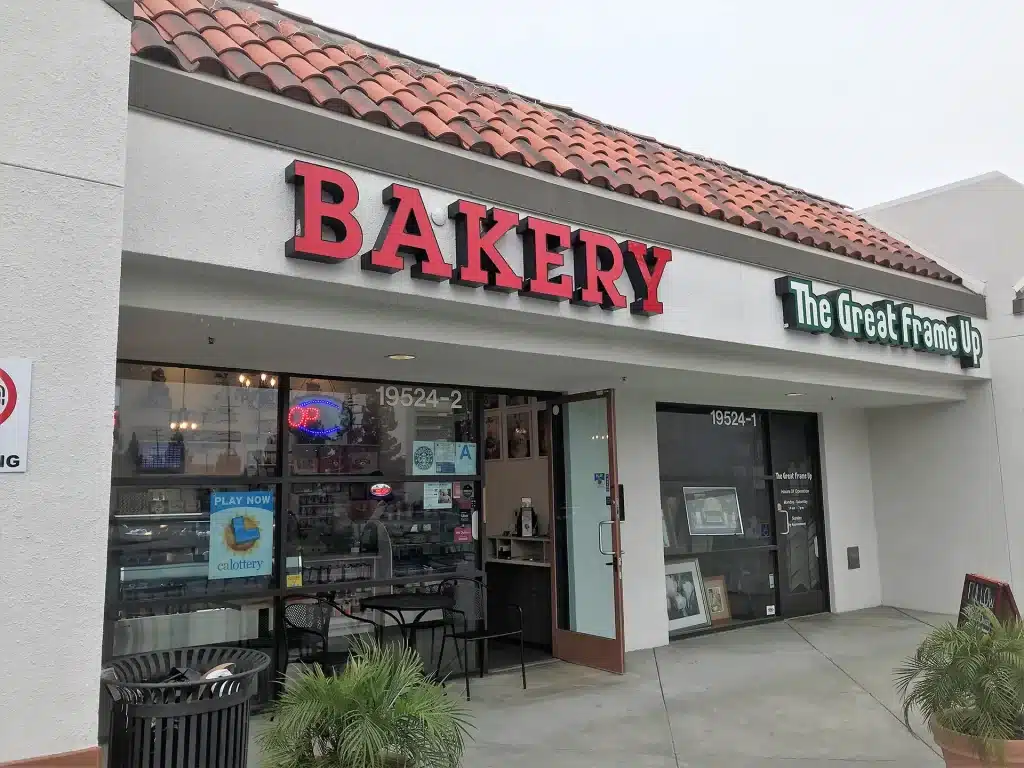 How to Create a Professional Storefront Sign for Your Business
If your business is in a storefront, then there is one thing you know for sure. You're in for some steep competition from lots of businesses. To be one step ahead of everyone else, your business signs need to look crisp, professional, and they need to say something unique about your company. Storefront signs can be run-of-the-mill, or you can make them unique. It's all up to you. We can show you clearly why our storefront signs are your best marketing tool when you want people to find your business and venture inside. When you are ready for your sign, let us walk you through all the intricacies of not only getting it done but making it look fantastic. We will create the perfect sign for your company, one that will stand out, look good over time, and perform the function for which it is intended. Having a great logo to start with is half the battle, because you can then put that logo on just about any material you choose. If you already have a logo design, we can work with your artwork to replicate the logo exactly for your sign. If you don't already have a logo, or you think that your design needs updating or replacing, our professional designers will be happy to help.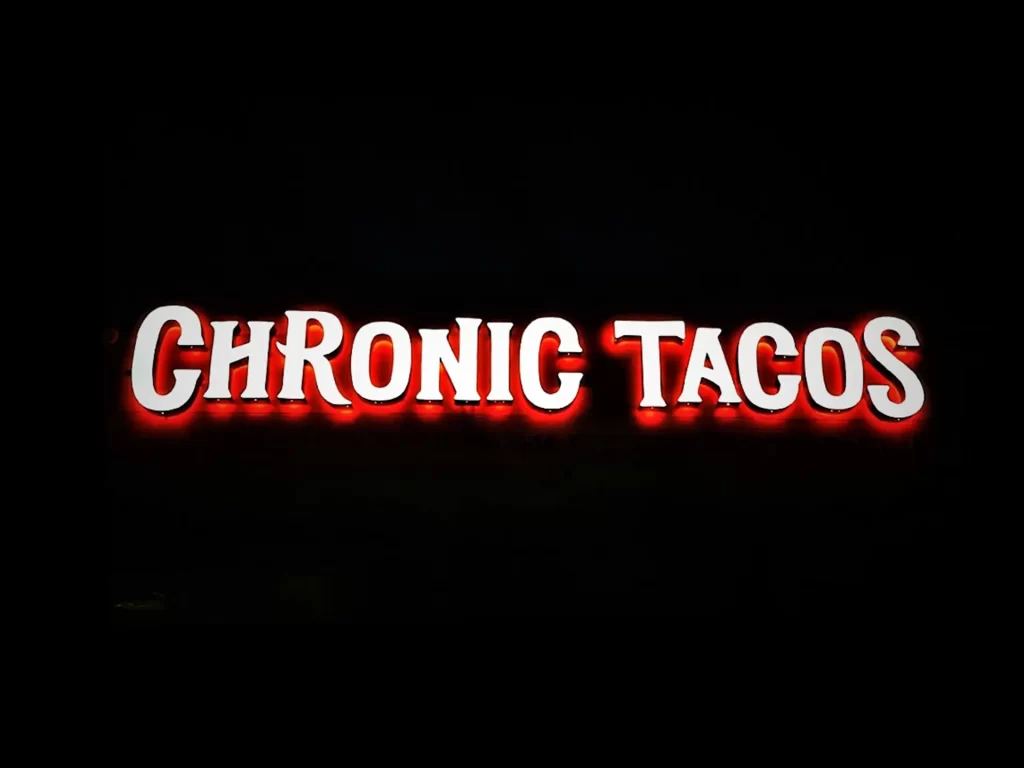 We have a design team that can provide you with custom options for your Storefront Signs. We can work within the constraints on the requirements for these signs to match your aesthetic, location, and brand.
It begins with our experts completing an in-depth consultation that focuses on the products that will fully meet your needs. Then our team develops a plan to meet those needs with custom design, fabrication, and installation. The final package will bring you long-lasting results!
Speak with our team today, and we will get you this information and more!
Illuminated Storefront Signs
Illuminated storefront signs can significantly increase the storefront sign's visibility, making it stand out more during the day and most especially at night. LEDs are the most common lighting types, though some signs may use solar power or passive lighting. LED lighting can light a sign internally or can create a halo effect around the sign. Passive lighting works by having the sign made out of reflective materials, making the sign appear lit due to the reflection from other light sources, such as headlights. On other signs, the illumination can be external.
Acrylic Storefront Signs
Consider acrylic storefront signs that can be used outdoors and are highly customizable. Acrylic signs are relatively inexpensive and can be cut and shaped to suit your signage needs. This form of storefront sign is most commonly stud mounted, so if that's the property owner's preference, you may find acrylic storefront signs are the way to go. They have clean edges and can be made in a variety of colors to suit your needs.
Metal Storefront Signs Los Angeles
When it comes to manufacturing a storefront sign, it's essential to prioritize durability so that it will hold up well against the elements it will be exposed to. For this reason, metal is a popular material. When acrylic isn't used, aluminum is generally the metal of choice, though sometimes stainless steel is as well. These metals are good options for storefront signs since they are strong and won't rust if they are exposed to water, as other durable metals often do. This is important if your store is located in a place that sees a lot of rain or humidity. Choosing the right metal will help you avoid having to replace your sign frequently because of rust.
Channel Letters. Fabricated metal letters that can be internally illuminated.
Exterior Dimensional Letters. From simple lettering to cut-out logos, dimensional letter signs are a great way to advertise your business when you don't need an internally illuminated sign.
Metal Logos. These storefront signs can be very clearly three-dimensional and look great on the outside of your business. Metal logos can also come in any color you like. You can also enjoy a lighted sign, which is a great feature that makes sure you attract customers day and night.
Mounted Digital Prints. Looking for an inexpensive way to display information? A mounted digital print is a great option when you don't need the sign to be 3-dimensional, but you want it to last longer than a banner.
Frequently Asked Questions
Storefront Sign FAQs
Even the best storefront sign won't be able to do its job correctly if it isn't big enough. How big you should make your sign depends on how far away you want it to be visible. A good rule of thumb is to take the size of your sign and multiply it by 10-12. That's how far away your sign should be able to be easily distinguishable. As an example, a sign that is two feet tall should be visible from about 20-24 feet away. Make sure you take the time to examine the area around your store, so you'll know how far away you need your sign to be visible. Then you can use that to figure out how big your storefront sign needs to be.
Not all storefront signs are created equal. If your storefront sign is going to do what you need to attract customers and make your store visible, it needs to be compelling. It should be a perfect fit for your business and be consistent with your other branding. For this reason, having your storefront sign custom-made can be the best way to go for your business.
A clear sign stands out visually and is appealing. Most importantly, it must be easy to read. The sign's legibility will be affected by the color and lighting style you choose; it needs to stand out from the color of the building behind it. View the sign up close and far away; it should be easy to read from a long distance. Check it under day and night conditions. Ensure that your sign is achieving the desired effect and not inadvertently making it too difficult to read. If you want your sign to stand out, use a 3D storefront sign design.
As you design your sign, it's important to remember that most people viewing it won't be looking for long. People tend to have a short attention span on top of that. Because of this, make sure you avoid making your sign too long. It should be short, sweet, and to the point. That's part of the reason why including your logo in your storefront sign is essential. Logos tend to stand out well and can be very memorable.
Which font is best to use for your outdoor storefront sign will depend on a few factors—first, readability. If you want your sign to be easily readable, it's generally best to go with a thick, sans-serif font. Helvetica and Arial are examples of easy-to-read fonts. They're relatively common on new or modern signs.
Alternatively, if your branding calls for a more fancy font, there are plenty of options you can choose from. Serif-style fonts, script fonts, cursive fonts, and fonts with thin, decorative styles can be more challenging to read, but they can be very distinctive ways to make your brand stand out. Choose your colors, lighting, sizing, and spacing very carefully if this is the direction you choose to go in.
It's also essential to make sure your sign is wide enough. Some fonts tend to have some relatively thin areas, which can cause some difficulties if you want to have an illuminated storefront sign. Character fonts need to have enough width to accommodate internal lighting and create the sign's shell. As such, signs should be a minimum of 10 mm.
The sign you design for your storefront can make a massive difference for your business. There's a lot of work that goes into designing and building a sign that will be just right for you. Take the time to carefully plan each element of your storefront sign. If you end up with questions, be sure to ask. The more informed you are, the better you'll be able to make decisions about your storefront sign that will benefit your business.